At a recent PD I was introduced to iBooks Author.
It's a program designed to allow quick and easy publishing of online books. The session was just under an hour long, which isn't very much time to get an overview of a new program, especially one with lots of functions and possibilities. If I'd done this session a few years ago I would probably have been quite overwhelmed and ditched the whole thing as soon as I'd left, but this time I didn't.
You see, the thing that's really come to me lately is how technology is a giant ocean of skills and knowledge and it seems so vast and diverse that getting to know every creature living in it, to learn all their languages, is a herculean task. But it only *seems* that way when you're yet to dive in.
One of my co-workers made an excellent point that has stuck with me for months. Technology and learning new apps and programs can be daunting at first, but there's a certain pattern to the way things are put together. Once you've opened and played with five or ten apps or programs, you realise that, just like all fish have fins and scales, apps and programs have lots of similar attributes. This isn't accidental, either. There are thousands of people at work all over the globe trying to make sure their app is the easiest, most intuitive to use because they know they have about one minute before customers decide that another app would be quicker and easier.
We live in an age where you don't need to be a computer scientist anymore to program and create. I used to avoid programming my bedside alarm clock because it involved pushing so many buttons and scrolling through options. Now my iPad contains almost everything I need to support my entire daily schedule and it is so easy to use that it doesn't come with any instructions.
Anyhow, iBooks.
The session I did was a bit daunting but now I have so much more confidence in myself to solve these problems because I've learned this:
This comic, by XKCD (possibly the most famous, most beautiful, and most clever comic to only exist online) is the truth.
So I came home and had a go at making my first iBook. It was fun! I worked out the basics, inserted a video, pictures, pop-overs and text and completed it within a couple of hours. The theme was a series of lessons based on a current exhibition of Australian Illustrators at a local gallery. Our teacher in the PD had encouraged us not to do more than 3 pages but I made mine 6, mostly because I'm pretty comfortable with rambling on for pages and pages – as anyone who has read my travel blog will attest.
So, having sailed through the actual book, I hit my stumbling block when trying to upload it onto the iTunes Producer site. I actually made my boyfriend (who is far more IT savvy than me – he's a video editor) try to solve the problem but he couldn't help (mostly because I asked him at 10pm on a weeknight), so I came back again and again and read the error messages, resubmitted the document half a dozen times and tonight, while I wrote this….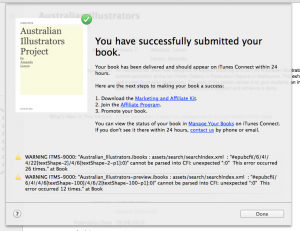 Success! Although there's still two warning messages at the bottom of the page, so we'll see tomorrow (apparently it takes 24 hours for books to appear) but still… my first published book!
So extremely cool, even if it's only six pages and aimed at an audience of maybe three people ;-).
As our teacher said, it means having books out there that you can refer back to, pass on, and share easily. I really like that iBooks can have a video introduction , so if I create an information product for students I can talk about it at the start and this will be useful for flipped learning. I can also now show students how to use this and they can create iBooks about their own interests. I'm thinking that I'd like to use the iBook format to get students to teach teachers about Minecraft – how it works and what the educational benefits could be. So many of my students are nuts about the game, I think it would make for a really rich task.
As always, learning about one new technology opens up ideas for so many more possibilities in the classroom. I'll post a link to the book – if that's even a thing I can do… something else on the 'to learn' list.
Onwards and upwards!